Have Permission
Do you ever feel burned out? Do you feel exhausted, overwhelmed, unable to focus? Ever feel like you've been pushing many hours a week for weeks on end and you're not sure when it's going to end and when you might get a moment to catch your breathe?
This was me two weeks ago. I was exhausted. All of my projects were hitting on all cylinders, I had just been asked to step up to a new position at work, I had obligations and things due to different people, and I was exhausted. I had not been sleeping well, wasn't eating right, wasn't getting out and hanging out with friends. I was going through the motions.
One day I was at a client's for the morning. I was planning to take it easy the next morning and work from home, but I when I emailed my coworkers to tell them this, here was the response I got: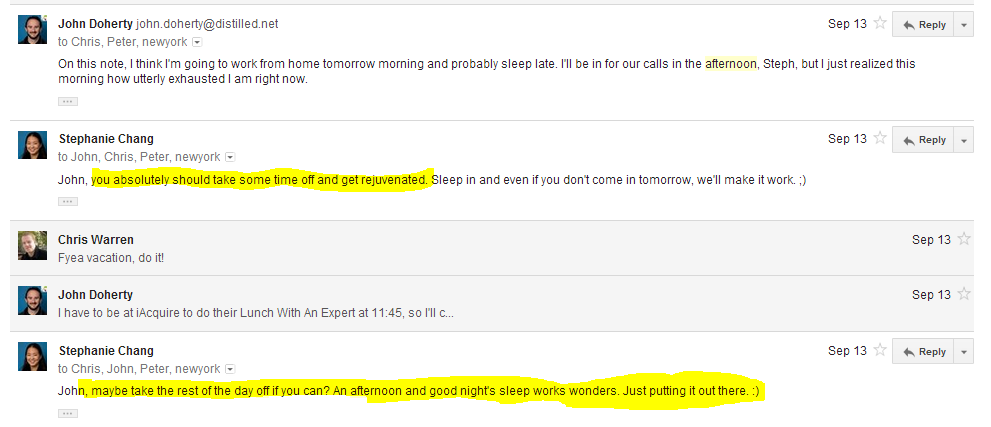 The funny thing is, this helped, but the hardest thing for me to do was to give myself permission to take an afternoon off. Any of you who are as driven as I am to succeed and do really well at your job, you'll probably echo this sentiment at some point or another.
But guess what? I took that afternoon and went here:
If you don't know, that's the Brooklyn Heights Promenade. I rode my bicycle there and sat on one of those benches for about 45 minutes. No phone, no computer, no nothing. I sat, and I looked at the skyline. 
After that 45 minutes, guess what? I felt better. I felt a bit relaxed even. I felt like life was manageable.
This past weekend I took an extended weekend and flew to Oklahoma City to visit one of my best friends. We drank beer, we went rock climbing, we saw a movie (Looper), we hung out with his girlfriend, we ate Oklahoma-made ice cream, we saw The Head and The Heart live, we played 18 holes of golf, I slept in every morning. And now, I feel great.
If you're tired, give yourself permission to take an afternoon or a day off. If you've earned it because you've been working hard, do it. It's the most productive decision you can make.